As the Revs celebrate winning their first match in the 2013 Open Cup against the Rochester Rhinos and prepare to bring the competition to Boston, we're excited to announce some big Cup news of our own: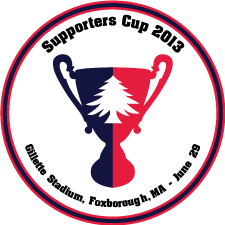 The Second Annual Revolution Supporters' Cup is on.
That's right. The 2013 Supporters' Cup is official, and as current title-holders we're excited to get back on the field to defend our superiority.
Saturday, June 29th
Gillette Stadium
Gates: 6:30pm
Kickoff: 7:00pm
Proceeds benefit the One Fund
There are a few new details. Last year we had such a great turnout and raised a bunch of money for Think Taylor and the Revs' Charitable Foundation. In 2013 we're building on what we learned last year to make sure this year is even better.
Tryouts
Last year's turnout exceeded expectations, which was fantastic but led to a bit of an overflow on the sidelines. While we would love to guarantee everyone playing time, there are only so many spots on the field and minutes in a game. This year we'll be conducting two tryouts:
There will be a $10 tryout fee – if you are not selected, this amount will count as your entry fee as a spectator. If you are selected, the full fee for participation is $50 (an additional $40 after the tryout fee). Remember, all proceeds will go to a great cause. Tryouts are open to any 2013 member of the Midnight Riders age 16 or older. Go here to sign up for the Franklin tryout.
Five of the 25 spots will be available for "buyout" – that is, if you just can't imagine not representing the Riders on that pitch, you may purchase a spot on the team for $100. These spots are available on a first-come, first-served basis after tryouts are completed, and if they are not filled, we will pick additional players to fill the roster.
There will be two women on the field per side at all times. Tryouts will be conducted by certain members of the Riders leadership who will be exempt from selection.
Spectators
As hinted at above, the fee for spectators will be just $10, with proceeds going to the One Fund. Even if you don't intend to play, come join us to cheer on the Riders and then stick around for the viewing party afterward!
Jerseys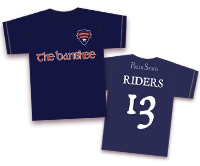 We're fortunate to be sponsored by both the Banshee and Parlor Sports this time around, and we will have a limited number of jerseys available displaying our crest and these sponsorships. Those who make the final roster will automatically receive a jersey, and others may purchase them for $25. Presale will end on June 9th.
If you are selected for the team and have purchased a jersey, that money will go toward your entry fee.
After Party
We'll be having a private viewing party for the Revs-Chivas away game following the match at the CBS Scene, right next door to the stadium. Come join us to cheer on the Revs as they show Chivas their appreciation for the Agudelo trade.
We're really excited about this year's Supporters' Cup – we can't wait to add another star above our crest. We hope you're excited too. We'll see you at tryouts!