With the hopes of keeping all of the most important Revs and Riders news all in one up-to-date place, we give you the first installment of the Rider Insider.
Revs @ D.C. United – Saturday, May 26th, 7:30 PM Kickoff, RFK Stadium:
This Saturday the Revs will take on another rival, this time it is against a member of the I95 Corridor, and fellow MLS OG DC United.
This is a great opportunity for the Revs to get three points, climb the table, and declare to the league that they are a legitimate force to be reckoned with. This match is certain to serve as a litmus test for the Revs to see where they stack up. We've all seen them play some very impressive soccer at times this season, now it's time for them to put it all together for 90 minutes, on the road, against a conference foe.
For those considering the trip down to our nation's capital you can order tickets here and use the promo code "DCU" to make sure you get supporters tickets with other Revs fans.
For those who are going to be around Boston this weekend we've got a proposition for you. You'll be back from your day at the beach/park/whatever  with plenty of time to head over to The Banshee and join us for our Revs/USA viewing party. The Revs will be there as will AO: Boston. Have a beer, watch two soccer match, head out for the night.
Pre-Order your "Viva La Revolution" T-Shirts Now: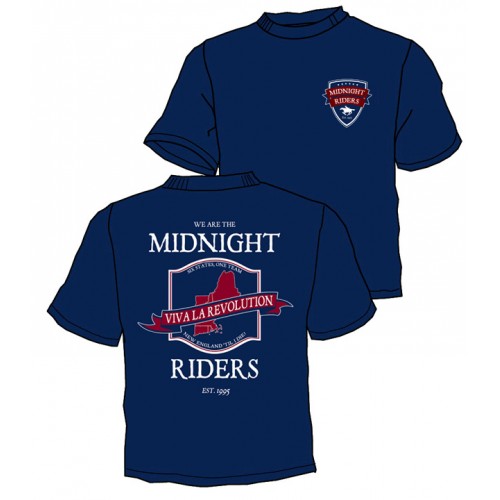 Click here to get on the list for our limited run of the latest Midnight Riders t-shirt. Come June 15th we'll stop taking orders so get them in now.
Tune in for Tierney and Soares on The DA Show:
The only man in the Boston sports media scene who gives the Revs any respect will have Chris Tierney and AJ Soares on air for an hour on Wednesday night, May 23rd at 9 PM. The DA Show is on The Sports Hub 98.5 FM.  This is a great opportunity to show a major media outlet that we have an engaged and passionate fan base. More information is available on the Revs site.
Fransican Hospital for Children 5k:
The Midnight Riders, as part of our long-standing commitment to charitable action and involvement in our beloved New England and to support a friend of some of our very own family, are joining in the New Balance Heartbreak Hill 5K to benefit Franciscan Hospital for Children. We will have team members both walking and running, so there's something for everyone. 2012 has already been one of the most successful charity seasons in The Midnight Riders' history and we're just getting started. Help us keep it going! Join and/or Donate today!
Awesome Bus: The Midnight Ride?:
Within the next week we will be announcing plans for a bus from Boston to Foxboro for the July 9th match against the New York Red Bulls. This is the perfect way to get that city-dwelling friend out for a match. You know the one who does not own a car and uses it as an excuse to get out of everything?
Don't forget to subscribe via email on the right sidebar to get this information sent directly to your inbox.
Go Revs!