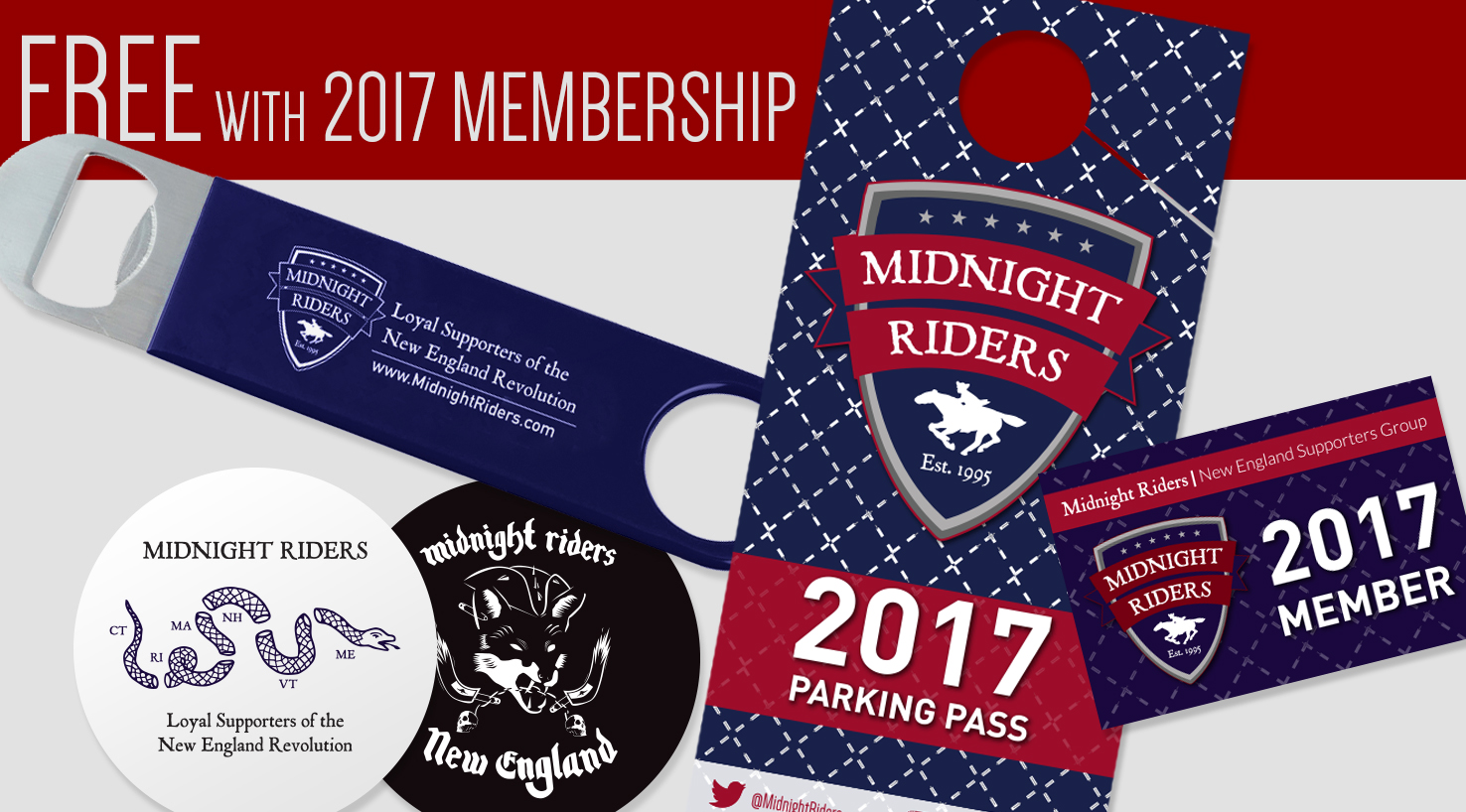 Midnight Riders Membership Benefits for 2017 include:
A 2017 Membership Card which grants specials and discounts from Midnight Riders Partners (click here for a full list of Official Partners/benefits)
Access to our reserved parking area on the east side of Gillette Stadium
Three hour tailgate (one hour longer than the normal tailgate)
The right to seek election to the Midnight Riders leadership board and to vote in all elections
Ability to participate in the Supporter's Cup
Discounts on Midnight Riders merchandise
Discounts on away match tickets
Discounts on special events
Advanced access to transportation for road trips to see the Revs
Exclusive access to the Midnight Riders' Facebook group
Email notification of all Riders meetings, viewing parties, news, merchandise, and more.
Perhaps most importantly, through the Midnight Riders you will have direct access to the ears of the Revolution organization. The Midnight Riders have a Revolution liaison who meets with Revs representatives, including sales, management, security, and parking. In past years, these meetings resulted in gaining our own dedicated tailgate area, improving promotion for our away game bus trips, and a tent at the top of the Fort where we can answer member questions and sign up new members.
Midnight Riders Membership for the 2017 season is now open!
Becoming a member of the Midnight Riders is simple and easy: Just sign up in our online shop here
We offer two types of memberships: Single and Family.
Single memberships are $10 for the season and include one (1) parking permit for our dedicated parking area at Gillette Stadium.
Family memberships are $20 for the season and include two (2) parking permits for our dedicated parking area at Gillette Stadium. Family Memberships are limited to one designated individual plus any immediate family members including spouses, civil partners and children under the age of 18.
We hope you'll consider joining us for the 2017 season. If you decide not to formally join the Midnight Riders or would like to speak with us in person, we welcome you to join us on gameday for tailgating in our parking area at Gillette Stadium. You can also find us at the top of The Fort under the Midnight Riders tent. If you have any further questions, please e-mail them to info@midnightriders.com