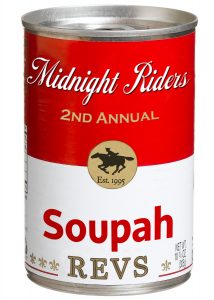 "Soupah Revs" is back! Show off your culinary skills and enter your favorite soup or stew in our Soupah Revs Cook-off. Entry is free and there is a suggested donation of $5.00 or a donation of non-perishable foods to taste and vote. All proceeds will be going to the Connecticut Food Bank. For more information on their mission and programs, please check them out at www.ctfoodbank.org.
Please use the form below to submit your soup. We will be saving enough spaces for all participants to park next to each other. Entry is open to current members only. Tasting/judging is open to all.
This event will take place during our tailgate (in Lot 4C) on October 23, 2016.